Yum Yum Dishes
Home | About Tracy Adler | About Yum Yum Dishes | Images | Media Coverage | News | Portion Trainer | Where to Buy | 9Plate | Questions to Ask | Spokesperson Laura Fenamore | Spokesperson Len Saunders | Yum Yum Dishes' Articles | Yum Yum Dishes New Products 2011 | Contact |
About Yum Yum Dishes
The Yum Yum Dish™ Story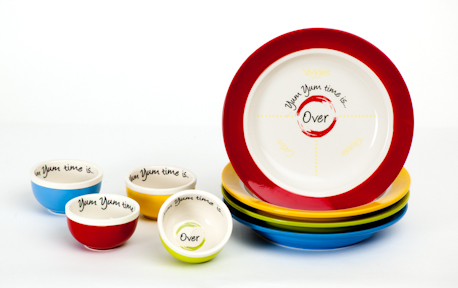 Yum Yum Dishes™ are the creation of Mom and former restaurant owner, Tracy Adler. During maternity leave following the birth of her daughter, Rachel, Tracy developed "a strong relationship" with her pantry door. With each visit to the pantry, she found herself saying "I can eat this - I'm breastfeeding," or "I need a few extra calories!" Though she would pop open a jar of peanuts, or a bag of chips for what she intended to be a quick nibble, Tracy inevitably carried the goodies back to the couch and before she knew it, would consume half the bag! What bothered her more than the calories was the fact that she wasn't even consciously aware of how much she was eating.
Tracy's son Elliot was just 3 years old when his baby sister Rachel was born. When Tracy recognized her uncontrolled snacking, she realized that Elliot was also snacking all day long. She regretted having encouraged such negative eating habits in her son, especially in the face of a rising prevalence of childhood obesity in the United States.
Tracy came across some odd-sized little bowls at her restaurant that she took home and used as treat dishes. These little dishes could hold a handful of peanuts or 6 cheese puffs; 7 strawberries or 5 vanilla wafers. No matter what the snack, it was almost impossible to over eat…unless, of course she kept refilling the bowl! But, since refills were a conscious act, Tracy found she could better recognize just how much she and her family were snacking.
"I could always make the choice to stop," Tracy explains. "Instead of losing count of how many trips I'd made to the pantry for 'just a few chips,' I filled my treat dish knowing that I was getting one single-serving."
The little dishes were a hit with Elliot, who loved that they were kid-sized. Tracy loved having a better handle on her eating habits, and within months, she was back to her pre-pregnancy weight and more importantly, back into her old jeans! Instead of completely denying herself the indulgence of fat and carbs, Tracy simply adjusted her "fooditude," and successfully limited the in-take.
Tracy gave her sister a few little dishes and passed on her new way to curb over-snacking. It didn't take long for it to occur to her that everyone might like to consider using smaller bowls, and eating smaller portions. Thus, the Yum Yum Dish™ idea was born. With the help of artist Robert Sheeran, Tracy spent about six months developing the 4 ounce ceramic bowls and began offering them at her former restaurant as gift items, or as part of an appetizer or dessert order (patrons get to keep the Yum Yum Dish™ their food arrived in).
Yum Yum Dishes™ are available through Tracy's website, www.yumyumdishes.com. They are dishwasher safe (though they really love to be hand-washed). Presented in four colors, each bowl also includes some encouragement to end your snacking, letting you know that "Yum Yum time is....Over."
The very popular Yum Yum Dishes™ message of "all things in moderation" inspired Tracy to apply that same healthful concept to the menu at Cafe on the Square, where diners can order smaller portions of gourment dishes for lunch or dinner.
If you have any questions, please contact Michelle Tennant at 828-749-3200 or michelle@publicityresults.com.
Home | About Tracy Adler | About Yum Yum Dishes | Images | Media Coverage | News | Portion Trainer | Where to Buy | 9Plate | Questions to Ask | Spokesperson Laura Fenamore | Spokesperson Len Saunders | Yum Yum Dishes' Articles | Yum Yum Dishes New Products 2011 | Contact |
Copyright 2018 Yum Yum Dishes. All rights reserved. - View Full Version of this Press Kit.
Powered by Wasabi Publicity, Inc. - Find Other Online Press Kits... Free Publicity