Take Our Daughters And Sons To Work
Home | About the Program | Facts | Expert Bios | Program Images | Alumni Testimonials | Ready-to-Use Quotes | News and Story Ideas | Questions to Ask | Media Coverage | Participant Testimonials | Contact |
Alumni Testimonials
If you are a Take Our Daughters and Sons to Work alumni and would like to share your story, please contact us. Or, submit your story here.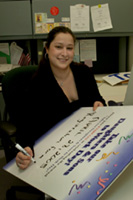 Stacey Renée Vitale
Sr. Administrative Assistant
Bridgewater, New Jersey
Being a workplace coordinator for the 2004 Take Our Daughters and Sons to Work® Day on April 22 was a privilege for Stacey Renée Vitale of Bridgewater, New Jersey. It was an opportunity to help girls and boys make their visions of the future a reality, just like she's been able to do for herself. Back when Stacey was 14 years old, she went to work with her mother, Lynn Vitale, as part of the former Take Our Daughters to Work® program. According to Stacey, the experience turned a curious and mischievous girl into a focused and accomplished young woman.
"I have direction in my life now because I participated in the Take Our Daughters to Work program," said Stacey. "Before that day, I was getting Cs and Ds, maybe a few Bs, in high school. The program was exactly what I needed to get my life back on track!" Stacey believes the new program can do the same for today's girls and boys. And it starts them thinking about how they'll live their whole lives – at work, at home, and in the community – when they grow up.
All grown up now herself and working in the marketing department of Ortho-McNeil, the same Johnson & Johnson company where her mother works, Stacey looks forward each year to coordinating the organization's Take Our Daughters and Sons to Work Day. Last year, 200 children participated.
"We use the official activities and come up with some of our own," said Vitale. "We talk with the kids about balancing work and family life. We give examples of putting family first, such as saying, 'this e-mail can wait till tomorrow because my child needs me,'" Vitale explained. "Work is important, but family comes first. This is the Johnson & Johnson credo."
Stacey believes the Take Our Daughters and Sons to Work program expands the children's capacity to dream. "I think it helps them to set their own personal goals and makes them realize that the real world isn't too far away!"
Take Our Daughters and Sons to Work Day is more than a career day; it is an opportunity for girls and boys to discuss the competing challenges of work and family, how they are affected by these forces, and how they believe family-friendly workplaces should function. It also strives to change public policies and workplace cultures to ensure that family-friendly environments are the norm, rather than the exception.
The Take Our Daughters and Sons to Work program promotes a society where men and women are encouraged to participate fully in all areas of life and are appreciated for doing so. Indeed, the family-friendly workplace is a future that girls and boys already envision for themselves. In a survey conducted by the Families and Work Institute, 81 percent of girls and almost 60 percent of boys said they will reduce their work hours when they have children.
If you would like to talk with Stacey Vitale or other alumni, please contact Michelle Tennant at 828-749-3200 or Michelle@WasabiPublicity.com.
Home | About the Program | Facts | Expert Bios | Program Images | Alumni Testimonials | Ready-to-Use Quotes | News and Story Ideas | Questions to Ask | Media Coverage | Participant Testimonials | Contact |
Copyright 2020 Take Our Daughters And Sons To Work. All rights reserved. - View Full Version of this Press Kit.
Powered by Wasabi Publicity, Inc. - Find Other Online Press Kits... Free Publicity