Asheville to South America!
Home | Pre-trip thoughts, rants, etc. | Project KTM | Travel Log 1 - September | Travel Log 2 - October | The Accident | Contact |
KTM 950 Adventure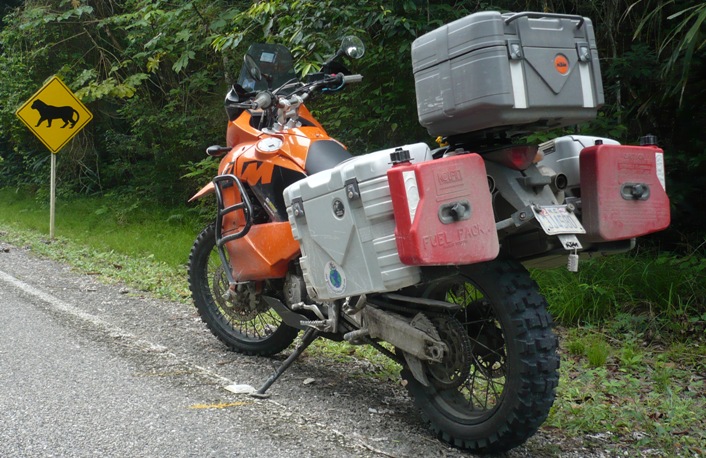 This is the bike I have chosen for the trip. It has been modified for durability and reliability. Some of the modifications are:
Dunlop D606 front tire and Dunlop D908RR rear tire
Hepco & Becker Gobi cases (side cases and top case)
Kolpin Fuel Packs (1.25 gallons each)
Hepco & Becker crash bar
Black Dog skid plate
Moose Racing bark busters
E-line folding brake lever
KTM 690 Enduro high fender kit
KTM heated grips
Custom bar risers
Magura shorty clutch lever
Leo Vince exhaust
Uni pre-filter
Evoluzion LC8 billet clutch slave cylinder
KTM steel clutch push rod
DID 525 VM2 Gold x-ring chain
16/45 sprocket gearing
NGK Iridium spark plugs
Powerlet auxillary power plug
Headlight on/off override switch
Low octane fuel switch
My 2005 KTM 950 Adventure is a working project. Here are some of the mods done since I purchased it in January 2008: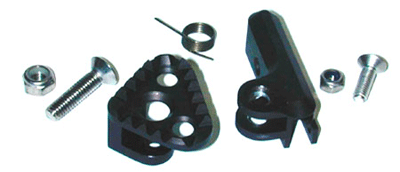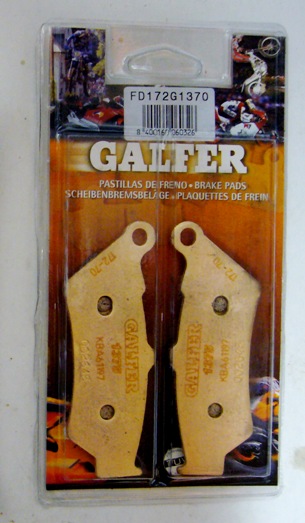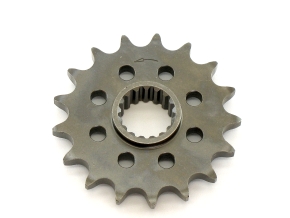 4/20/2008:
Water pump impeller shaft failure! (Or, how I spent my weekend.) A common problem for the Adventure 950 with an easy, but time consuming solution. Here's the rebuild in full swing: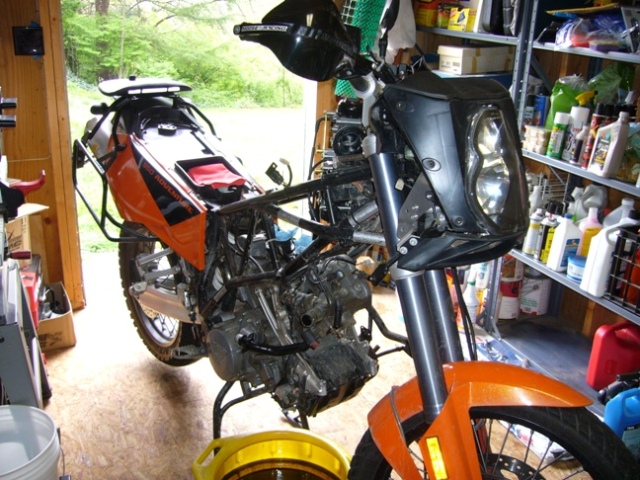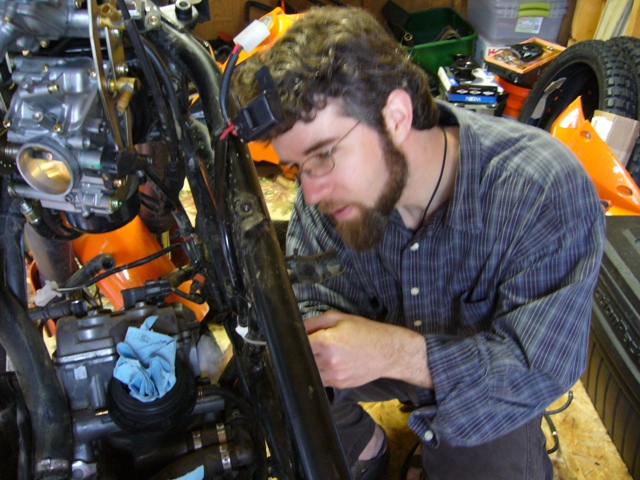 Here's the problem - notice the scoring on the impeller shaft. That shouldn't be there.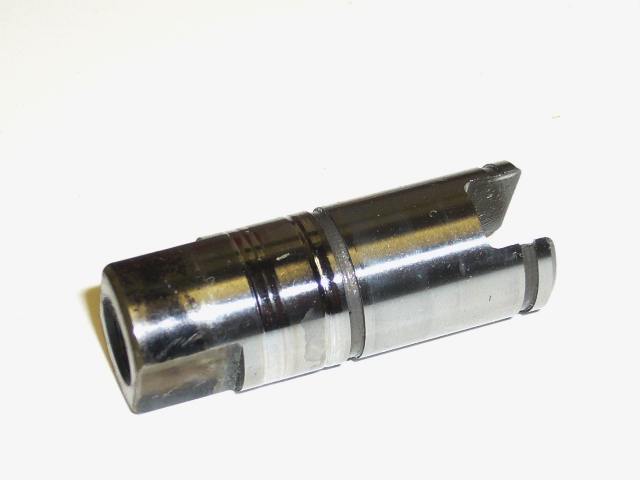 While I was in there, I swapped out the aluminum clutch pushrod for an updated steel one that is supposed to prevent wear and eventual clutch dragging. I also added a billet clutch slave cylinder manufactured by Evoluzione. It's a nice one piece aluminum piece that is supposed to cure another common Adventure 950 problem: a leaking slave cylinder. Mine was already showing the beginning signs of failure: mineral oil dripping on the kickstand.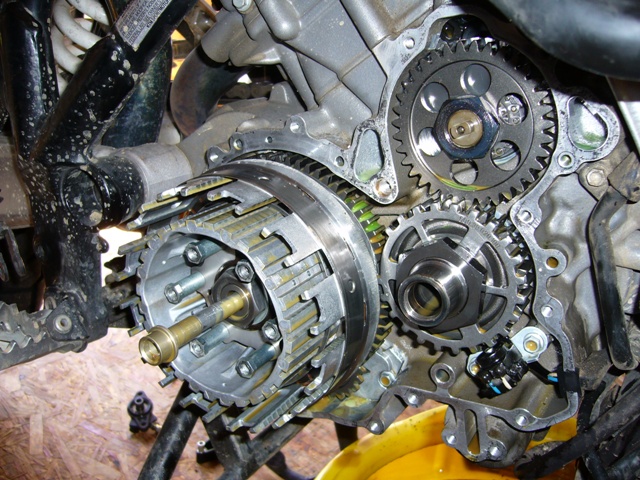 Stitching her back up: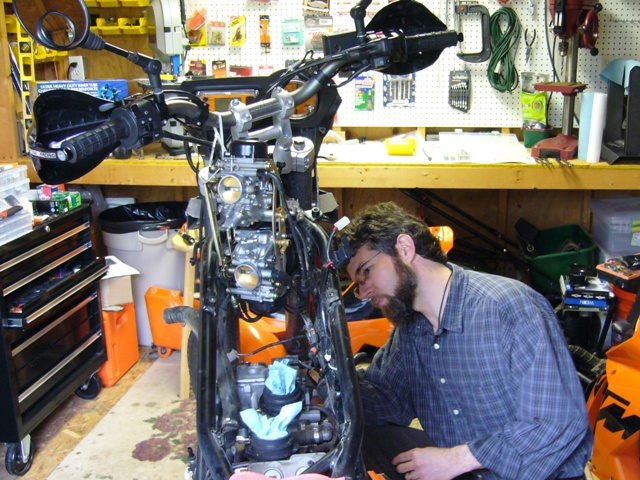 Lastly, time for some new kicks:
I'd been wanting to add some more off-road oriented knobs since I bought the KTM. I think they'll be much more fun around the mountains of western North Carolina, but the Pirelli Scorpions will probably go back on for the predominantly interstate/highway ride from Flat Rock to the Mexican border. I also put the OEM windscreen back on. It's narrower and less likely to break if (when) I drop it on the trail.
6/2/2008:
Kurt Forget at Black Dog Cycle Works skid plate makes a really nice skidplate. After hearing several horror stories on ADVrider.com about the kickstand taking hits that resulted in cracked engine cases, I decided to invest in a little insurance in the form of powder-coated armor from Black Dog. Installation is a simple as removing the old skidplate and replacing the new one (4 bolts and about 5 minutes).
Here's a side by side comparison (new vs. old):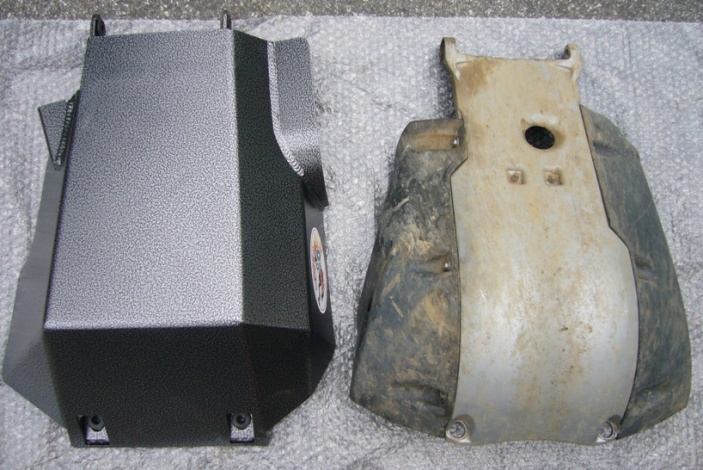 And the finished installation: Sweet!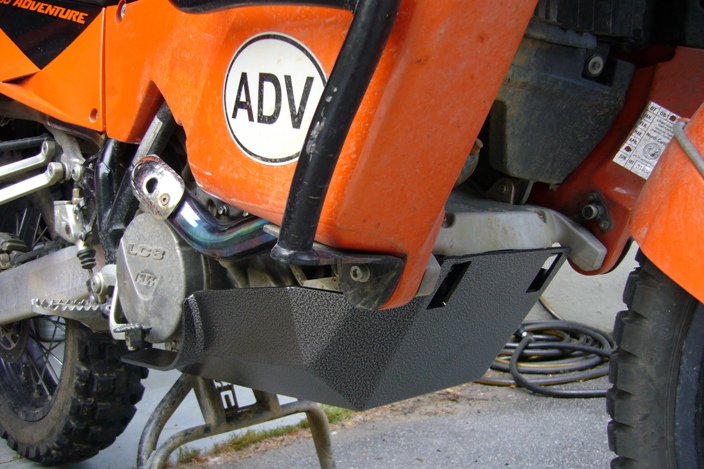 7/22/2008:
I just got a shipment of miscellaneous spare parts and upgrades for the Adventure: a Facet fuel pump, filter, and check valve; high fender kit (pieced together myself); and extra parts like spare oil filters, tire tools, etc. This weekend is looking like it will be a "tech" weekend.
7/25/2008:
So, the tech weekend begins... with really bad news. I pull the 950 out of the garage to warm it up and ride it into my workshop, noticing the coolant level in the overflow reservoir is a little low. Upon cranking, there is a puff of steam - indicating a problem with the water pump seal once again. It's only been 3,500 miles since the last rebuild and I think it needs to be rebuilt again. Luckily I already have the parts onhand, but this does nothing for my confidence of reliability over the long journey to come. I delay the waterpump rebuild for another day, and continue with the scheduled upgrades.
First up, a new waterpump: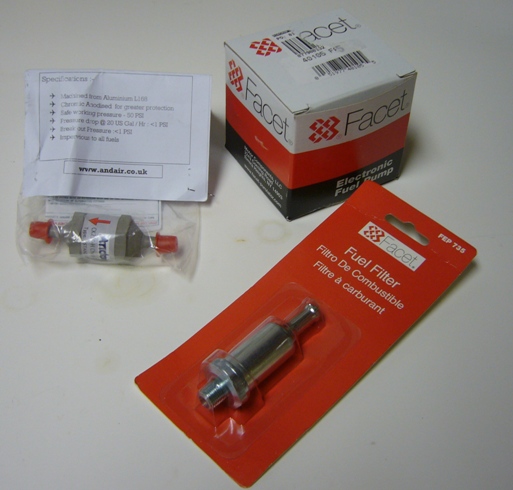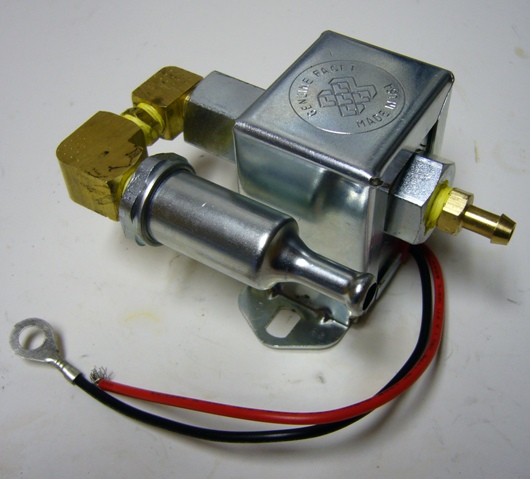 The Facet-Purolator 40105 solid state fuel pump is a recommended upgrade over the stock pump. I chose the 40105 over the 40171 pump purely due to availability. The 40171 pump has a built in check valve to prevent carb flooding due to gravity feed from the tanks. Because the 40105 doesn't have the check valve, a Andair check valve is installed downstream of the fuel pump to prevent flooding and fuel hydrolock.
Next up, a homemade high fender kit: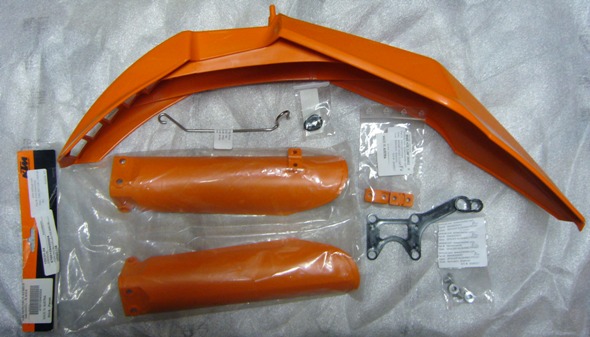 Using KTM 85SX fork guards requires fabricating a a bracket from aluminum stock, riveted to the guard for stability.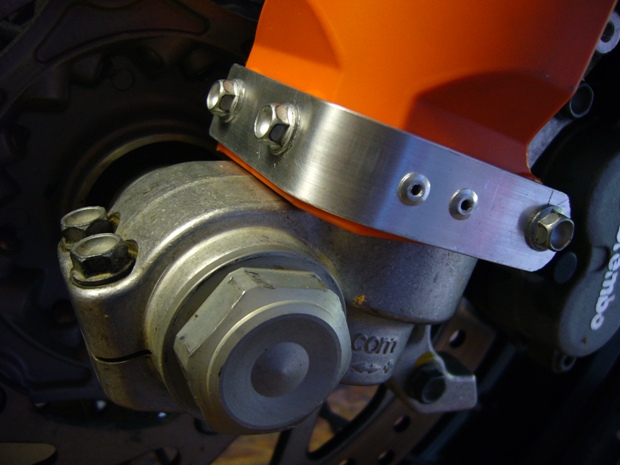 I rerouted the left brakeline, using another right brakeline (for the length needed) to replace the short brakeline that routed over the stock low fender. The fender is from a 2008 690 Enduro.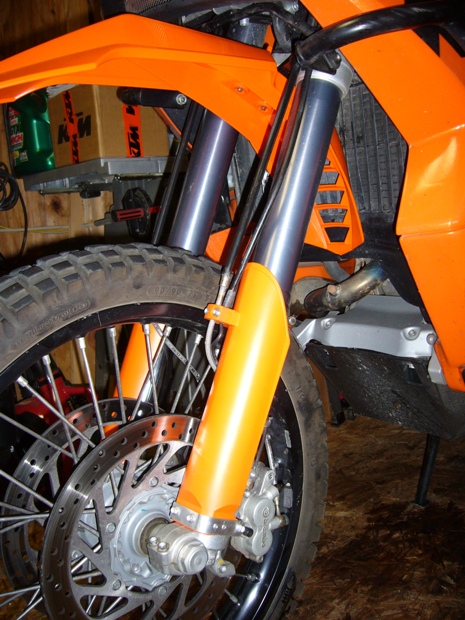 The high fender will allow mud to build up around the front tire without clogging between the tire and fender - and stopping forward motion of the bike - a necessary upgrade considering the muddy conditions we are likely to encounter in Central America. It also looks bad ass - an added benefit!
8/12/2008:
Another huge box of parts showed up today from KTM Twins. This weekend will be another tech weekend. I still have to check valve clearance, upgrade the cylinder head bolts, install heated grips, put on a new chain and sprockets, and do some miscellaneous wiring. Most of the stuff I needed came today.
Home | Pre-trip thoughts, rants, etc. | Project KTM | Travel Log 1 - September | Travel Log 2 - October | The Accident | Contact |
Copyright 2023 Asheville to South America!. All rights reserved. - View Full Version of this Press Kit.
Powered by Wasabi Publicity, Inc. - Find Other Online Press Kits... Free Publicity