Asheville to South America!
Home | Pre-trip thoughts, rants, etc. | Project KTM | Travel Log 1 - September | Travel Log 2 - October | The Accident | Contact |
Pre-trip thoughts, rants, etc.
3/9/2008 It all begins...
My wife, Michelle, just set me up with this new site to play on. I'm a little late in getting this going, so I'm gonna have to bring everyone up to speed.
My good friend Dan called me in December. He was kicking around the idea to ride a dual sport motorcycle from Asheville, North Carolina to Buenas Aires, Argentina to teach English as a second language. He asked me what kind of bike he should be looking at for such a journey. I gave him a list of about 5 bikes. The next day, he called me to go look at this: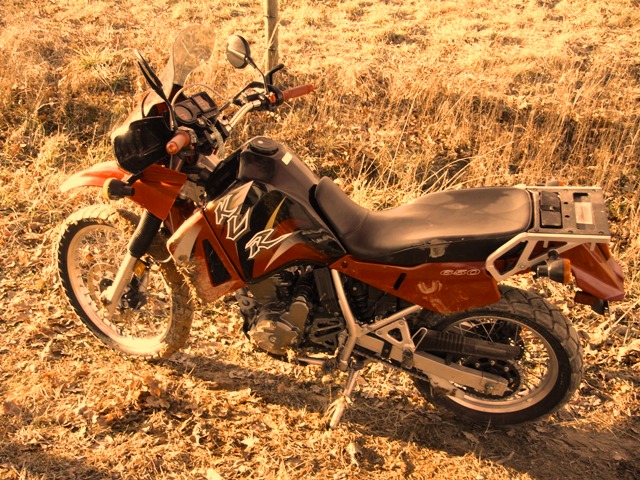 The day after that, Dan bought it. Enrolled in Dan's adventure and wanting to join him for at least part of the ride, I counterattacked with this:
A little more exotic than the tried and true KLR ~ but what can I say? ~ I had an itch that needed to be scratched. Already fitted with a fair amount of farkles:
Hepco & Becker crash bars

Hepco & Becker Gobi side cases
Leo Vince performance exhaust
Renazco Racing custom seat & OEM gel seat
KTM touring windscreen & OEM windscreen
Custom bar risers
These are the bikes we've chosen for the adventure. Dan and I are both new to adventure riding, so we're planning on taking a lot of "mini trips" this spring/summer to work out the details. This site will chronicle my trials and tribulations, as well as the progress on setting up my KTM for the big adventure. Dan maintains his own site, and his progress can be checked here: Dan's Asheville to Argentina Blog
5/14/2008 My first biff.
Note to self ~ don't ride the KTM like a sport bike when the Gobi's are on. It was only a 10 mph curve on Mine Gap Road on the other side of the mountain behind our house, but I was pushing it at about 20-25 mph and leaning way over. The bottom corner of the right Gobi case dragged the pavement - and when it did, it cantilevered the rear tire off the pavement enough to let it lose its grip on the asphalt. The KTM spun around about 270 degrees. It happened so fast, I didn't have time to be scared. But I've been thinking about it ever since. A lesson learned.
5/21/2008 The dream becomes real.
I'd requested time off for the Panama trip more than a month ago. Management has been telling me they're "working on it". But, today I was told my request has been denied - too long away from the office, might set a precidence for others to request a six week sabatical as well, etc. My heart was broken. Is this the end of the trip? How can it be when it hasn't even begun yet?
5/31/2008 A short practice run.
I took the 950 out for its first real off road riding today. I've really been curious how the bike would handle off pavement with the luggage attached, so I left the Gobi cases on.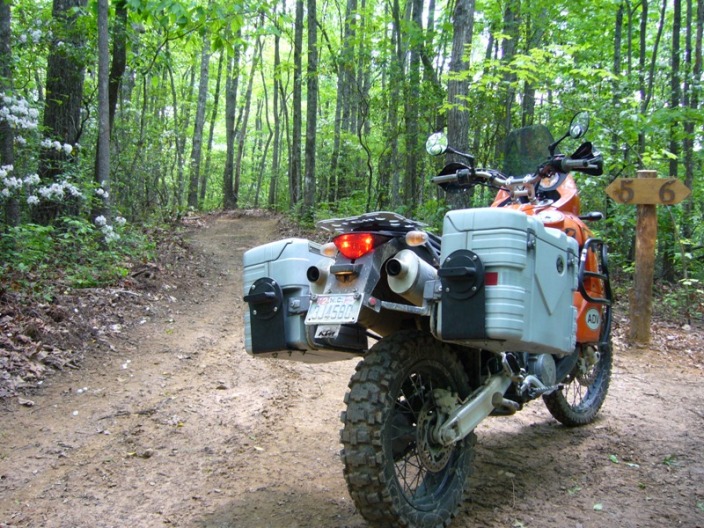 It's surprisingly agile for a 500lb bike. I can't ride it as fast or as confidently as my DR-Z400, but I attribute that to rider experience and rider ability rather than shortcomings of the 950. The WP suspension is incredible for a such a heavy bike and the 908RR rear tire tractors up the slickest muck with relative ease. I like it!
Note to self ~ Don't ride off road with an unsecured bottle of tire Slime in the panniers or this could happen again:
6/28/2008 A little teamwork goes a long way...
No, this isn't a closeup of Mayan ruins. It's not time for that yet. This is Dan's finished patio after a group workday at his house to finish up some things on Dan's must-do list before we embark on our epic journey. Michelle and I worked all day today with a few of our other friends to get this completed. And I have to say we did a fabulous job. The finished work surpassed all expectations I had for the day and I know Dan must be jumping with joy over the new patio and sidewalk. Enjoy, Dan. Michelle and I are glad we could be a part of this.
7/22/2008 Sponsorship!
SPOT, Inc. makes a cool new product called the SPOT Messenger, a GPS locator system that can track the carrier's location in real time anywhere on the planet. On a whim, I decided to contact them to see if we could get a messenger unit from them to track us as we ride to South America. After a few unanswered emails, I decided to let a professional handle it - my wife. Michelle spoke with them today and landed a unit and year-long subscription to their tracking service. Here's the unit, appropriately contained in a "KTM orange" plastic housing.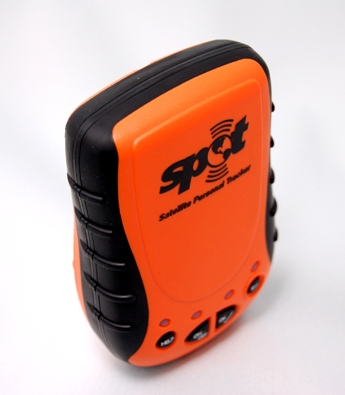 7/28/2008 A test of commitment ( or What a weird, wild weekend!)
A little taste of the weekend events (the story tells itself in these clippings):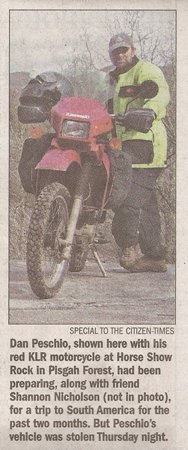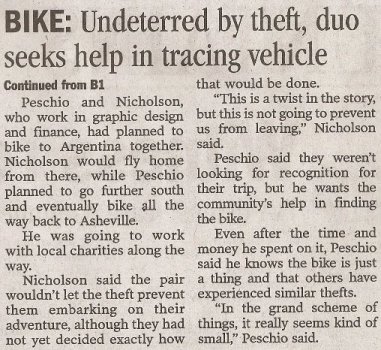 By Friday afternoon, Dan and I were making preparations to get another bike, find a clean garage or shop space, and prep a new bike within weeks of our departure date. Something like this was not going to stop our plans. Fortunately, Dan's KLR was recovered by the Asheville Police Department with very little damage relative to the amount of work it would have taken to prep another bike.
Still, the unexpected theft has solidified our commitment for this trip. It could have been a convenient (and understandable) bail-out point for Dan, yet he maintained his strong commitment to see this trip through on the schedule we have already set. Dan never allowed the theft of his bike to deter his plan and that has further instilled my confidence that Dan is the perfect riding partner for this journey.
8/10/2008 Falling behind...
Michelle and I are visiting my sister, brother-in-law, and two nephews near Memphis, Tennessee this weekend. I wanted to see them all before my departure date just in case things go horribly wrong and I don't make it back. With each day, my list of to-do items seems to get longer instead of shorter. Some of the items I have been able to check off this weekend are: see my sister and her family and have a great visit with all of them; visit one of my oldest and closest friends, Brandon, and his new girlfriend, Shelly; buy socks and new books to read while on the trip; and spend time with my wife, Michelle.
8/11/2008 An interesting dilemna... Decisions, decisions.
Something interesting has developed over this past weekend while I have been in Memphis - a third rider has contacted Dan and I to ask if he can join us on our trip. I've volleyed a few emails back and forth with Asher, copying Dan each time, but haven't formed an opinion yet of whether Asher should be allowed to join us. Adding a third rider is a huge decision at this stage of our planning and has the potential to impact our trip in huge ways. Three of us riding together could be a lot safer and a more enriching experience, or it could be a total disaster.
8/12/2008 Back from Memphis.
So we've made it back from our Memphis trip. A great time was had with my family and I made some time to visit with friend Brandon and his girlfriend Shelly while we were there.
The kids (yes, that includes me) had a blast at the go-kart track.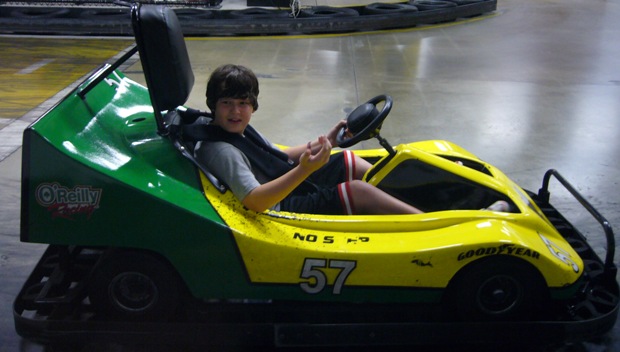 Brandon, co-owner of AudioGraphics Masterworks, is building a huge manufacturing facility in Bartlett, Tennessee.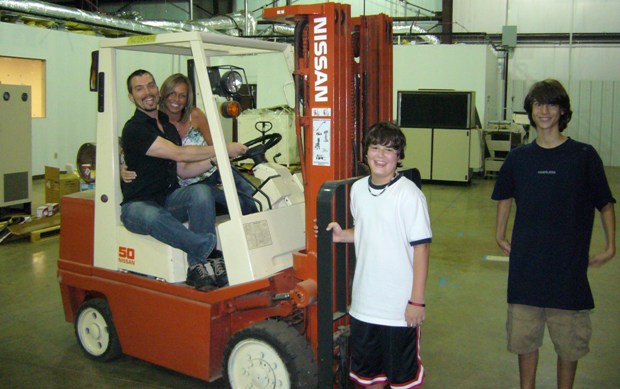 My sister Bliss checks out Brandon's new facility.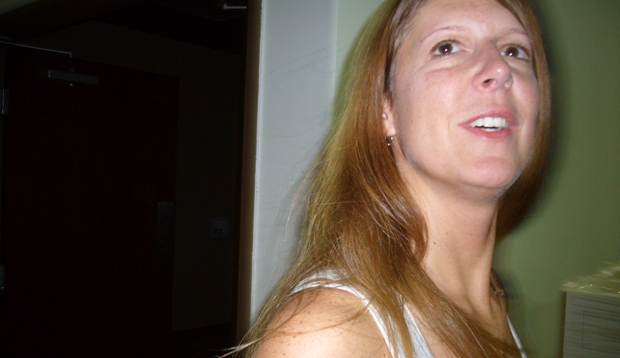 On a sidenote: Asher, the guy who emailed Dan and I just a few days ago interested in joining our trip has withdrawn his offer. It seems he was struck by the huge amount of preparation it takes for a trip like this and saw it was probably not possible for him to prepare in the remaining three weeks we have before we leave.
8/14/2008 Leaving it all behind...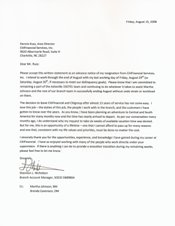 Yesterday, Lindsay Lancaster from the Hendersonville Times-News interviewed Dan and me for an upcoming story in our local newspaper. And tonight, I wrote out my resignation letter to give my obligatory two week notice tomorrow. With each item I check off the to-do list, this trip becomes more real - but both of these items truly signify a "point of no return" and have had particular impact on me.
Dan has been very disinterested in calling public attention to himself or what we've been up to for the past eight months - at least until he saw the power of the press (and television) when his bike was stolen in July. Since he was thrust into the spotlight in July, he has become more willing to talk about our plans publicly. Our Times-News interview is proof of that. After talking to us for over an hour about the trip itinerary, our motivation for doing this kind of trip, and general preparations we've made so far, Lindsay indicated we might see the finished article as soon as next weekend. Definitely exciting for two guys who have tried to keep a low profile so far.
I also prepared my resignation letter from CitiFinancial. I have worked in the consumer finance industry for almost 15 years, never changing jobs, but working for three different companies over the years due to acquistions. CitiFinancial is the most recent of those companies and I have worked for them since 2004. To say I'm sad to go is an understatement in a way. I've come to love the people I work with and the customers I service. But a change is in order and the job must go if I'm to complete my journey with Dan.
8/29/2008 An end to an era...
Today was bittersweet-- my last day at CitiFinancial after 14 years and 8 months of service. It was business as usual for most of the day-- taking payments, collecting delinquent accounts, etc. But, routine as the day was, there was something different about today that really didn't hit me until I gathered up the gifts from my "going away" party, boxed up the last of my personal affects, and gave my boss (pictured front middle) a big hug-- I was leaving and never coming back. Maybe the brevity of the situation still hasn't hit me completely, but it has certainly sunk in more than ever before. As I acknowledged my co-workers for being the incredible people they are, demonstrating tremendous integrity during even the most pressured circumstances, and supporting my dream of travelling to Argentina by motorcycle, I felt the tears well up inside. I was overwhelmed by all of it today: the true generosity, good wishes, fellowship, and support from all of my co-workers and many of our customers, whom I have gotten to know so well over the years.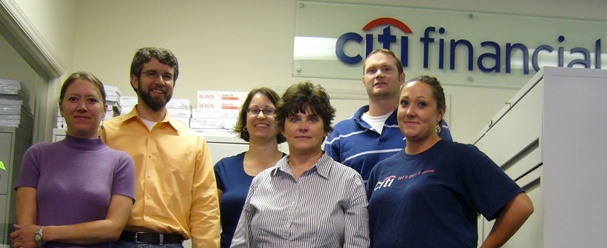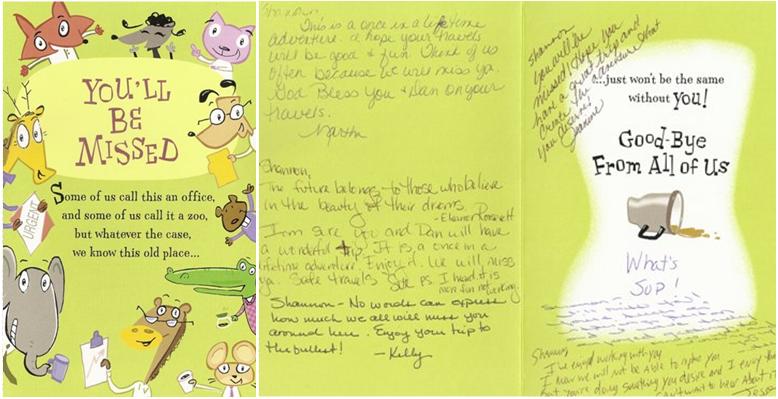 One of my favorite clients made a special trip to see me before I left today with coffee mugs for me and my wife and a plaque that echoes a philosophy I live by:
My wife, Michelle, waited patiently for me to arrive at home so she could treat me to a special dinner reservation she had made to celebrate my last day at work.
Flight is a wonderful restaurant on Main Street in Hendersonville. Michelle chose Flight for its symbolism (in name) to my leaving a long, enjoyable career in consumer finance and embarking on a new journey in life. We enjoyed a wonderful bottle of Argentinian table wine in celebration of my upcoming departure, accompanied by a fantastic plate of lamb chops and grilled salmon. While we were dining, Flight's head chef, Rob Keener, came out to greet us. Rob said he had come to our home once to pick up a paddle I had found on Wilson's Creek while kayaking. Maybe the world isn't so big after all.
8/30/2008 Sending us off in style...
Will and Drew threw a launch party for us in Saluda tonight. On display next to their backyard deck were our packed and loaded bikes for everyone's inspection. It was a great night spent with many of our friends and relatives, with a chance to say goodbye before our incredible journey to come.
8/31/2008 Our 15 minutes...
Link to article on newspaper site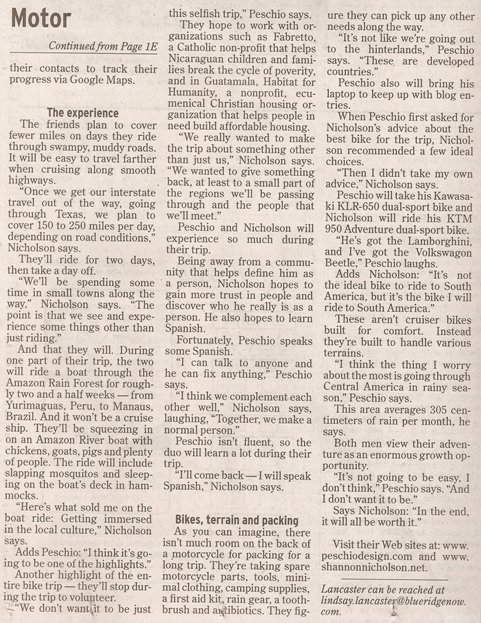 9/1/2008 Packed and ready to go!
...But still sitting at home watching The Weather Channel. After setting two departure times today, Dan and I decided late last night to postpone our departure until 8:30am tomorrow morning (9/2/2008) to allow time to gather information about Gustav's landfall near New Orleans and the severity of Gustav's impact. By delaying our travel for an additional day, we also hope to avoid the evacuation traffic patterns as residents return to New Orleans after the mandatory evacuation yesterday.
Also, I think Dan needed the extra time to sort through his packing list one last time. Michelle went over my packing list as I unpacked and then repacked everything yesterday evening in our driveway. Michelle was a raft guide in West Virginia years ago and lived outdoors each summer for several years. Getting her advise has been indispensable in helping me pare down my load to what now seems to be only the most necessary items for travel.
Home | Pre-trip thoughts, rants, etc. | Project KTM | Travel Log 1 - September | Travel Log 2 - October | The Accident | Contact |
Copyright 2023 Asheville to South America!. All rights reserved. - View Full Version of this Press Kit.
Powered by Wasabi Publicity, Inc. - Find Other Online Press Kits... Free Publicity