Asheville to South America!
Home | Pre-trip thoughts, rants, etc. | Project KTM | Travel Log 1 - September | Travel Log 2 - October | The Accident | Contact |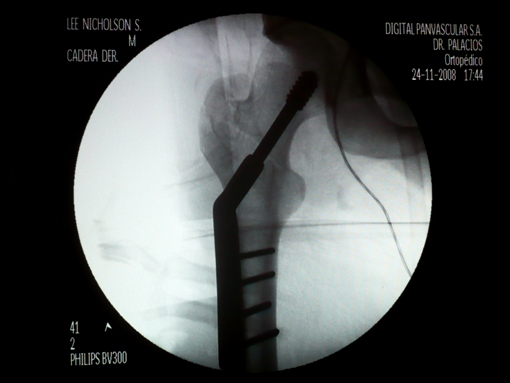 For some, this may be a plot spoiler-- like when your friend tells you the ending to an on-the-edge-of-your-seat thriller-- but...
On Friday, November 21st, I was hit head on by a taxi cab. Dan and I had just filled our tanks at a gas station on the way out of town as we left Abancay, Peru heading to Cuzco, Peru. It was about 10:15am and it had just begun to rain. There was a marathon runner ahead of us and an ambulance that was following him for safety. I was about 50 feet behind the ambulance as we entered an uphill curve, once again beginning our ascent into the surrounding mountains. Dan was ahead of the ambulance. As I entered the sweeping left curve, my eyes caught glimpse of the out-of-control taxi skidding into my lane and narrowly avoiding collision with the ambulance in front of me. As I swerved, he hit me head on with brakes still locked and a look of panic on his face. My body launched high over his car and landed with a hard impact on the pavement beside his passenger door. I knew from the force of the impact that I was hurt but I laid there for several seconds before my adrenaline subsided enough to determine that my right leg was numb and immobile. By then, the ambulance ahead of me was stopped and medical personnel were rushing to my assistance. I was lucky to have medical attention so soon after the crash.
I was taken to a small regional hospital in Abancay where I was x-rayed and told I would be able to walk after 2 weeks of bedrest. Dan and I both knew this didn't sound right. Dan immediately contacted my wife, who sprung into action by contacting my international health insurance provider. Denise and Cindy, the agents on call that weekend at IMG Insurance arranged a helicopter evac to Cuzco for a second opinion and I was airlifted there on Saturday. After more x-rays in the Cuzco hospital, Denise and Cindy arranged yet another air evac to bring me to Lima (the capital city of Peru). I was airlifted by private jet on Sunday to Clinica San Felipe where I would receive the best care and a needed operation to stabilize the displaced fracture of my upper right femur. I cannot say enough good things about IMG, the medical crew on the private jet (Sondra, Gabby, and Carlos), or the doctors and nursing staff at Clinica San Felipe-- without them, my experience would have been drastically different.
As it turns out, I am recovering very well and expect a full recovery in just a few months. As you can see from the photos, I was already walking with the aid of crutches just a few weeks after the surgery and I will be able to walk with just a cane by the first week of January 2009.
To see more about my time spent in Lima, visit my wife's blog.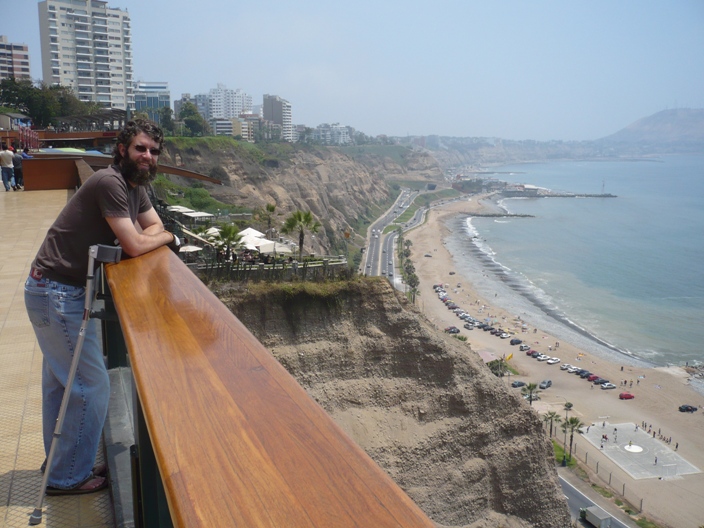 Me, enjoying the view of the Pacific Ocean from the Larcomar mall in Lima, Peru.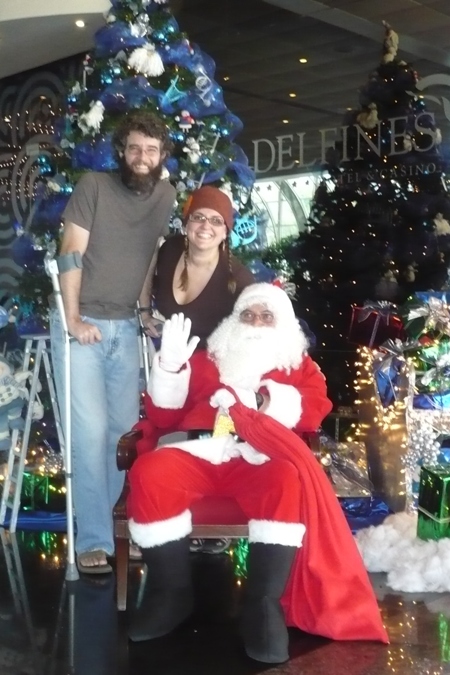 Happy holidays from Peru! ~ Shannon, Michelle, & Papa Noel
Home | Pre-trip thoughts, rants, etc. | Project KTM | Travel Log 1 - September | Travel Log 2 - October | The Accident | Contact |
Copyright 2023 Asheville to South America!. All rights reserved. - View Full Version of this Press Kit.
Powered by Wasabi Publicity, Inc. - Find Other Online Press Kits... Free Publicity