Asheville to South America!
Home | Pre-trip thoughts, rants, etc. | Project KTM | Travel Log 1 - September | Travel Log 2 - October | The Accident | Contact |
9/25/2008 Guatemala ~ La Llorona pays a visit.

It's said that we are all either beach or forest people. I'm a forest person and it felt great to leave the beaches of Belize and head into the mountains of Guatemala. It also felt good to have a change of road conditions. Crossing into Guatemala meant saying goodbye the paved roads of Belize and the KTM loved the rutted roads of the mountain terrain. We're still riding with Mike Haley at this point and have encountered our first fellow motorcycle traveler. Luke, riding solo on his old BMW K100, joined us for dinner in Flores last night. Flores is a beautiful town on an island in a freshwater lake deep in the jungles of Guatemala. It's also apparently home to La Llorona, the crying woman.
I couldn't fall asleep, but when I finally started to drift off, the dream of her woke me again, so real I laid there for a moment trying to separate dream from reality. I awoke, almost gasping, as there's a woman hovering over me as I slept on my back. Her long hair flowing as if she were underwater. She had slightly Mayan features. And, as I lay there, I find it harder to breathe. Maybe she has her hands around my throat, choking me? I awoke startled and looking up at her for a moment as she dissapated into nothingness. I'm not taking my anti-malarials yet, so I'm not sure how to dismiss it as an over active imagination.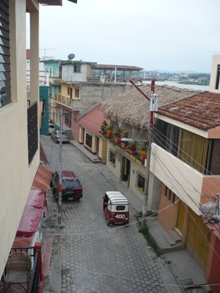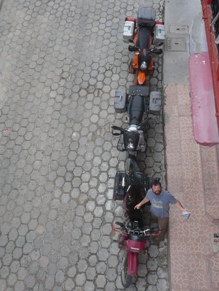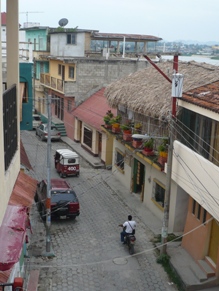 Home | Pre-trip thoughts, rants, etc. | Project KTM | Travel Log 1 - September | Travel Log 2 - October | The Accident | Contact |
Copyright 2022 Asheville to South America!. All rights reserved. - View Full Version of this Press Kit.
Powered by Wasabi Publicity, Inc. - Find Other Online Press Kits... Free Publicity