Heather Estay
Home | About Heather | Books & Columns | Images | Media Coverage | Questions to Ask | Show & Story Ideas | Contact |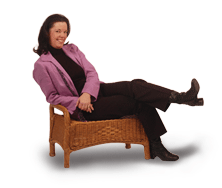 Does the guy youíre dating have more hair in his ears than on his head?
Does the woman youíre dating have more hair on her chin than you do?
Welcome to middle age.
And welcome to Heather Estayís online press kit!
Heather Estay, humorous commentator, novelist, speaker, and self-confessed non-expert on many issues, offers her quirky perspective on topics of interest to Baby Boomers Ė and other topics that actually interest hardly anyone except Heather's mother. Heather does this so she doesnít have to get a real job.
Topics such as:
How You Know If Youíre In a Rut: "If you go to confession and have nothing to confess, and matching socks is the intellectual high point of your day. . .Ē
The Benefits of Having Your Identity Stolen: ďAnyone who is truly interested in stealing my identity should get the full deal, right? The car payments, the ex who wonít leave me alone, my rapidly advancing cellulite, the root canal Iíve got scheduled in two weeks. . .Ē
The Blessings of Cosmic Two-By-Fours
ďYouíve got to know when to ignore really good advice of your very best friends. . ."


A recovering corporate real estate consultant,
Heather Estay
was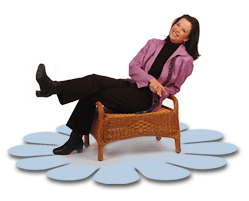 dubbed the Bridget Jones of the over forty set for her three humorous novels:
Itís Never Too Late to Get a Life
,
Itís
Never Too Late to Be a Bridesmaid
, and
Itís Never Too Late to Look Hot
. She also writes a weekly column,
Itís Just a Musing
, and speaks
to womenís groups and professional organizations who have a sense of humor.
View and download Heather's One Pager
This online press kit is designed to meet the media's needs. You can also visit Heather's public Web site: www.heatherestay.com. For any media requests or questions, please contact Michelle Tennant at 828-749-3200, michelle@publicityresults.com
Home | About Heather | Books & Columns | Images | Media Coverage | Questions to Ask | Show & Story Ideas | Contact |
Copyright 2019 Heather Estay. All rights reserved. - View Full Version of this Press Kit.
Powered by Wasabi Publicity, Inc. - Find Other Online Press Kits... Free Publicity