Becka and the Big Bubble
Home | About the Authors | About the Books | Images | Media Coverage and Reviews | News and Story Ideas | Questions to Ask | Contact |
Welcome to the online press kit for Becka and The Big Bubble!
Try New Things

Visit New Cities

And Have FUN!

Kids love Becka! Kids love Bubbles!
Education & Adventure... and Bubbles!!!
How can parents and teachers educate, inspire, and help children build the confidence to try new things?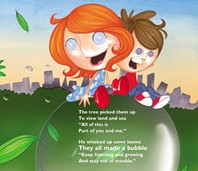 Becka and the Big Bubble

books re-open this exciting world for our children.

With imaginative illustrations and playful rhymes, Becka takes 2 to 8-year-olds on intriguing adventures, seeking out exotic cultures and new vistas. Sometimes Becka brings her friend, Ben, and she always returns home safely by book's end.

From Mother Goose to Dr. Seuss, we've seen the impact of rhymes on learning and retention. And, what vehicle could be more enticing to a child than a bubble? Becka and the Big Bubble books have all of the delightful ingredients needed to inspire our children's imagination.

Brother and sister team, Gretchen Schomer Wendel and Adam Schomer, have created this series from their love of travel and their love of children.

As one reviewer wrote, Becka and the Big Bubble books ". . . could be read to a 4- or 5-year-old as a bedtime story without pictures, and the child's imagination would do the rest."

Becka and The Big Bubble: All Around Town, Becka and The Big Bubble: Becka goes to the North Pole, and Becka and The Big Bubble: Becka goes to San Francisco are now available. New adventures are coming soon!

Download a one pager.

View their latest press release: Flippity-Free: Becka on iTunes

This online press kit is designed to meet the media's needs. You may also visit the public Web site at www.BBBubble.com

Home | About the Authors | About the Books | Images | Media Coverage and Reviews | News and Story Ideas | Questions to Ask | Contact |

Copyright 2022 Becka and the Big Bubble. All rights reserved. - View Full Version of this Press Kit.
Powered by Wasabi Publicity, Inc. - Find Other Online Press Kits... Free Publicity