thepurplebook
Home | About thepurplebook® | About Hillary Mendelsohn | About the Books | Facts | thepurplebook® Images | Media Coverage | News and Story Ideas | Questions to Ask | Testimonials & Reviews | Contact |
Welcome to the online press kit for thepurplebook®!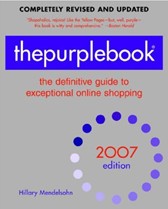 thepurplebook has been guiding people to the best shops the Internet has to offer since 2000. With nearly 700 pages in its most recent, updated edition, thepurplebook is the definitive guide to exceptional online shopping.
Hillary Mendelsohn, author of thepurplebook and its specialty editions, is considered to be the foremost expert in online shopping. She created thepurplebook when her own online shopping experience resulted in too many choices and not enough substance.
thepurplebook cuts through all the advertising and key word buys of traditional online search engines. You know those great features in magazines and newspapers recommending neat and unique online shops you've never heard of? thepurplebook is an entire guide filled with them. All you have to do is flip through the pages!
Download: One Pager.
"Think of it as a Google for shoppers....The sleekly designed book brims with helpful cross-references and hints for getting the most out of an online shopping experience." - Publisher's Weekly

This online press kit is intended to meet the media's needs. If you would like to purchase a copy of thepurplebook, please visit www.thepurplebook.com.
Media contact: Michelle Tennant, 828-749-3200, michelle@publicityresults.com
Home | About thepurplebook® | About Hillary Mendelsohn | About the Books | Facts | thepurplebook® Images | Media Coverage | News and Story Ideas | Questions to Ask | Testimonials & Reviews | Contact |
Copyright 2019 thepurplebook. All rights reserved. - View Full Version of this Press Kit.
Powered by Wasabi Publicity, Inc. - Find Other Online Press Kits... Free Publicity