Valana Minerals
Home | Overview | Image Gallery | Media Coverage | Contact |
Valana Minerals
Liberate your face!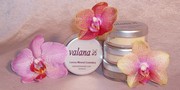 Welcome to a world of luxury.

With Valana Minerals™ our customers can rest assured that our products contain the most pure, naturally luxurious ingredients available, along with colors and collections designed for people with various shades of tan and brown skin. The quality is not only evident in our cosmetics, but also in our accessories and customer service.

Although Valana Minerals™ color cosmetics are created to coordinate with ethnic skin tones, the majority of our products work wonderfully with a diverse range of skin tones. You will discover the exceptional quality of our products transcend the limitations of skin color.

Please accept this personal invitation to experience the pure, simple, natural luxury that is Valana Minerals™.
Home | Overview | Image Gallery | Media Coverage | Contact |
Copyright 2019 Valana Minerals. All rights reserved. - View Full Version of this Press Kit.
Powered by Wasabi Publicity, Inc. - Find Other Online Press Kits... Free Publicity