Deborah Beroset Miller
Home | About Deborah Beroset Miller | Media Coverage | Questions to Ask | Deborah Beroset Miller Images | Contact |
Welcome to the online press kit for Deborah Beroset Miller,
Landmark Communication Expert.
Can Enhanced Communication Skills Lead to a More Fulfilling Life?
Clear communication is vital in every aspect of life. Business and personal relationships depend upon it. Communication is at the heart of all major conflicts, whether interpersonal relations with family and friends or your ability to communicate with confidence and power in the workplace. Learning to navigate the interpersonal dynamics can lead to a breakthrough for people in the areas of life that matter most.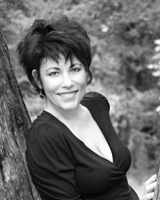 Deborah Beroset Miller is a communication expert who has led hundreds of people in Landmark seminars, where participants learn the communication and personal responsibility skills which allow them to lead more effective and powerful lives. A wealth of knowledge on Women's issues, Deborah has a unique approach when speaking on such varied topics as relationships, intimacy, communication, honesty, integrity, gossip, and more. Dynamic, effective, engaging, and empowering, Deborah brings invaluable and immediately useful insight.
Use the following story ideas or contact us with a specific request:
Recession Proofing Your Marriage: Learn how couples can weather the economic storm - together
Keeping the Communication Flowing in a Marriage: Discover how couples can keep the lines open
Honesty in Relationships: Is it always the best policy?
Gossip: Can gossiping about your spouse destroy your marriage?
Turning Gossip into Gold: Deborah will share the good, the bad, and the ugly about gossip and explain how to turn it into gold.
Happiness: Is it genetic? The result of some outcome that is one day coming soon? Learn how to let go of beliefs and find true happiness.
Landmark, a global leader in the field of training and development, has delivered courses to more than 2.2 million customers around the world helping them achieve unprecedented results in the areas of communication, interpersonal relationships and career. Learn more at www.LandmarkWorldwide.com.
Download a One Pager
Media contact is Michelle Tennant, 828.749.3200, Michelle@publicityresults.com, or blog http://www.StorytellerToTheMedia.com.
Home | About Deborah Beroset Miller | Media Coverage | Questions to Ask | Deborah Beroset Miller Images | Contact |
Copyright 2019 Deborah Beroset Miller. All rights reserved. - View Full Version of this Press Kit.
Powered by Wasabi Publicity, Inc. - Find Other Online Press Kits... Free Publicity