SellMoreStore.com
Home | About Amy Fox and Kendra Ramirez | Articles | Media Coverage | News and Story Ideas | Questions to Ask | Sell More Store Images | Contact |
Welcome to the online press kit for SellMoreStore.com!
SellMoreStore.com leads the way in e-training professionals to use social networks to expand markets.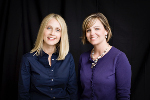 In the face of grim economic news, Amy Fox and Kendra Ramirez have teamed up to lead an emerging growth market: teaching business professionals online how to boost sales using social networks.
The two young Cincinnati "momtrepreneurs" have positioned themselves to lead the nation's top sales and marketing teams into the promised land of increased e-commerce.
Fox is CEO of Accelerated Business Results, which for eight years has trained some of the nation's top companies in sales and service performance, leadership development and product knowledge.
Since Ramirez founded SalesKonnect in 2005, her company has developed customized e-learning courses that teach sales teams how to use social networking tools to increase business.
Fox and Ramirez joined forces to create an online course called Social Networking for Business Development. The course teaches participants how to use LinkedIn's vast contact network to create new business opportunities. It's the first of many online courses they plan to develop to teach business, sales and marketing professionals to successfully use social networking tools.
Their combined client list includes Cisco, IBM, Sprint and Procter & Gamble. "Our target market is going to be national sales teams, like the Time Warners of the world, where they've got six thousand sales reps in need of instructor-led training," Ramirez says. "It's really hard to go in and teach six thousand reps how to do something, but if you put e-learning in their hands, they're able to do it on their time — they've got 24/7 access to the course to learn."
Offered at $49.95, the self-paced course is designed to teach business owners and sales and marketing professionals at every level to find new prospects, shorten the sales cycle and get results.
Check out the course demo.
Visit www.sellmorestore.com to learn more.
Download One Pager for Amy Fox and Kendra Ramirez.
Media Contact is Michelle Tennant: Michelle@PublicityResults.com, 828.749.3200
Home | About Amy Fox and Kendra Ramirez | Articles | Media Coverage | News and Story Ideas | Questions to Ask | Sell More Store Images | Contact |
Copyright 2019 SellMoreStore.com. All rights reserved. - View Full Version of this Press Kit.
Powered by Wasabi Publicity, Inc. - Find Other Online Press Kits... Free Publicity